Nordic Collaboration Creating Waves in Sustainability: The Power of Big Buyers and Supplier Dialogue
According to Health Care Without Harm Europe, the global health care sector is responsible for almost 5 % of global greenhouse gas emissions and 71 % of that is primarily derived from health care product supply chains (scope 3 emissions). The aim of the market dialogue was to explore how third-party environmental labelling can make it easier for both public buyers and suppliers to make the best possible environmentally sustainable choices.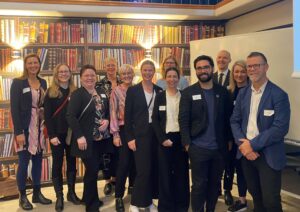 With 80 participants present in Malmö and 100 following the event digitally on 12 October, the scene was set for a market dialogue that will be the beginning of a strengthened Nordic sustainability cooperation.
«We want to create a wave now, and we you want to be part of it» encouraged Bente Hayes, CEO at The Norwegian Hospital Procurement Trust (Sykehusinnkjøp HF) as she addressed the participants.
Sykehusinnkjøp together with Landspitali – The National University Hospital of Iceland, Danish Regions: The Regions Joint Procurement, The National Secretariat for Sustainable Public Procurement and Helsinki University Hospital HUS and LUP is behind the Nordic Initiative for Environmental Labelling of medical Supplies (NIELS). The five Nordic Big Buyers has set themselves ambitious targets to prevent health and environmental damage. The dialogue in Malmö is the first step in this initiative and this is the first time the largest public buyers in the health care sector join forces at the Nordic level.
The 11th largest economy
With a total population of over 27 million people, the Nordic countries collectively form the world's 11th-largest economy. Nordic collaboration has become synonymous with sustainability, as these nations leverage their collective strength to address environmental challenges. The five Buyers therefor invite other public buyers for health institutions both in the Nordics and in other countries to join this commitment towards a healthier health sector.
Purchasing Power and Trust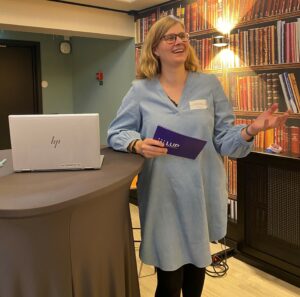 The responsible exercise of purchasing power involves more than just procuring sustainable products; it also requires fostering trust between buyers and suppliers.
«Dialogue is key, because public buyers need to understand how suppliers can help them fulfil their needs and how you can collaborate to meet those needs» encouraged Elisabeth Smith, Innovation Broker at LUP.
Creating Innovations through collaboration
There has been a huge interest in this project. More than 70 different Nordic and European companies signed up for the conference and 25 one-on-one meetings were held during the event. The short term aims for this project is to explore possibilities for how procurement of sustainable health care products can be made easier, through standardised labels or other types of information in dialogue with the market. The long term aim is applying for national and/or EU funding in public-private partnerships to develop more sustainable products.
«NIELS is a long-term initiative and a network of us sustainability minded Nordic public buyers in the health care sector, who want to create a unique place for dialogue between suppliers, procurers and ecolabeling organizations. For me, as a sociologist, the typical way of looking at things goes like this: can we collaborate on this and more importantly can we create something better if we learn from each other? The NIELS dialogue once again proved this, so yes, for both questions» says Suvi Ketene, Development Manager at HUS Procurement.
Parallell to the NIELS one-on-one meetings, the suppliers were given the opportunity to have one-on-one meetings with representatives from Ecolabelling Norway and Denmark. «The one-on-one meetings were very successful. This was a completely unique experience for us. I have never experienced the kind of joint initiative from such large buyers and such an event before» declares Senior Adviser Tormod Lien, from Ecolabelling Norway.
Transparent and effective communication between public buyers and suppliers will be the cornerstone that drives this initiative towards developing more sustainable products. LUP is so proud to be part of this initiative and look forward to the next wave.
The NIELS team*: Marlene Fredborg Danish Regions: The Regions Joint Procurement, Suvi Ketene, Elina Kukkasjärvi og Anna Sjövall, Helsinki University Hospital (HUS), Bente Hayes, Maiken P. Sele og Øystein Roll Sykehusinnkjøp HF, Diego Cattolica Correa og Erik Adriansson The National Secretariat for Sustainable Public Procurement (Hållbar Upphandling), Hildur Hjartardóttir Landspítali, The National University Hospital of Iceland, Tormod Lien Ecolabelling Norway, Riche Vestby og Elisabeth Smith LUP.
**From Ecolabelling Norway, Tormod Lien.
Read the presentations, watch the recording and stay updated on the NIELS project
Anskaffelsen knyttet til nyheten